Only in blogland can we attend two parties at the same time! I love it!

First we'll swing by Boo Mama's 2008 Holiday Tour of Homes.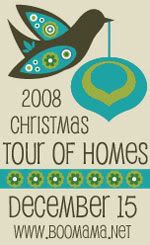 And then we'll stop by Julia's Hooked on Holiday House Tour.
For my regular readers, today will be a bit of a re-run. I've been blabbering on and on about my Christmas projects for two weeks now, so here are some of the highlights (or lowlights, depending on how you look at it).
I love wreaths! I can't help myself! Give me a glue gun, some gum wrappers, toothpicks, and plastic spoons and I'll give you a wreath. More details
here
and
here
.
For me, Christmas decorating begins with the fireplace mantle. Here's mine. If you want to read the whole sordid story (where I fall flat on my back), you can click
here
and
here
.
I got my hands on the
biggest pine cones known to man
. They needed glitter.
And then look! They had babies! These little guys were made using the same Modge Podge glitter technique. Apparently, the big ones are kind of like bunnies because I have these little ones everywhere.
Gotta have a tree, right?
And a reminder of why I'm doing all of this decorating.
Is it just me or is the proportion of Wise Man to camel off here? No way did that Wise Man ride in on that camel.
If you still have some energy for a party, stop by tomorrow and link up to my Open House. There will be prizes!
Since I've written this post, I've found out about 4 (yes, 4) more great parties to swing by.
Thrify Decor Chick
,
Rhoda at Southern Hospitality
,
We Are THAT Family
and a cookie exchange at
Cottage Magpie
. Whew! I'm exhausted! :-)