I've been wanting to makeover my kitchen stools for ages and I finally got around to it this weekend.


Here's the before...There was nothing wrong with them. They are sturdy Target stools that I got on clearance when we were living in our old house. They matched our cabinets remarkably well and saved me from spending hundreds of dollars on fancy stools for the island.


And the after...I'm so happy with them! Black would have been the obvious choice for the kitchen, but the white brightens things up. And I have some other projects in this area that will be white so it will all tie together eventually.


Here's how I did it:

Deglossed the surfaces with Klean-Strip Liquid Sander/Deglosser (you can get it at any hardware store). I LOVE this stuff. I may never sand again. It removes the shine from the finish and preps the surface for painting. So easy!
Primed with Zinzer Bullseye 1-2-3 primer. Thanks for the recommendation Lindsay! The hardest part was letting the primer dry really well before I painted. I'm so impatient.
Applied two coats of white paint (Fence Post by Glidden in semi-gloss) with my spray gun. If I didn't have the sprayer, I would have used a brush because I really wanted to use this color. It's a perfect white for painted furniture. Thanks for the recommendation, Layla!
Used number stencils to add numbers to each seat with black latex paint. There was a good bit of touching up by hand for this part. If I wasn't in such a hurry, I may have ordered vinyl wall stickers instead.
Done!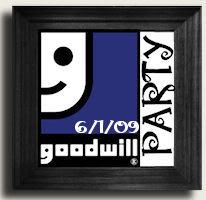 Since this project isn't a makeover of a Goodwill find, I won't link it up to Thrifty Decor Chicks Goodwill party but I did link up a couple of older posts. You should check out her party!
~~~~~~~~~
Want to see some other decorating projects using typography?
Shelves, a pillow and a school desk
: {happy day}
Numbered dining chairs
: The Shabby Nest
Kitchen stools and a pillow
: The Shabby Nest
Number buckets
: Therapy by Decorating