I've peaked! It can't possibly get any better than yesterday! I think I'll just pull a George Costanza and "leave 'em wanting more."

OK. Not really. In fact you all have fed my addiction so thoroughly that my mind is whirling with things I can tell you about. Then you'll all come back and give me more, more, more blog love!

This is how you all made me feel all day! By the time I went to bed, I was exhausted from all the excitement.


Being featured on SITS was such a charge! I was completely blown away that over 600 of you wonderful ladies visited me and left me such amazing comments. I could barely function all day! I kept waiting to see who would visit me next! You all said such nice things I nearly peed my pants! Seriously.
At 11:45pm, long after I should have been in bed, I was marveling at the fact that there were still gals coming to visit. Go to sleep people! Then it occured to me that the entire world doesn't operate on Eastern Standard Time.
Man! One day of blogging love and the entire world is about me! I'm sure to be unbearable for the next few days. My hubby is pretty sure that my head is much larger than it used to be. I may need to stay inside for a few days to recover.
I was so giddy reading all of your comments that I forgot to prepare something to post today. I'll have something new for you this afternoon or tomorrow.
Thank you all so much for making my day! Come back soon!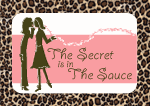 Oh! One more thing...If you need a little help and inspiration getting your house cleaned and in order, stop by to see the girls at
Like a Warm Cup of Coffee
. They are doing a series called "31 Days to Clean. Today is only Day 2 so there's plenty of time to catch up.